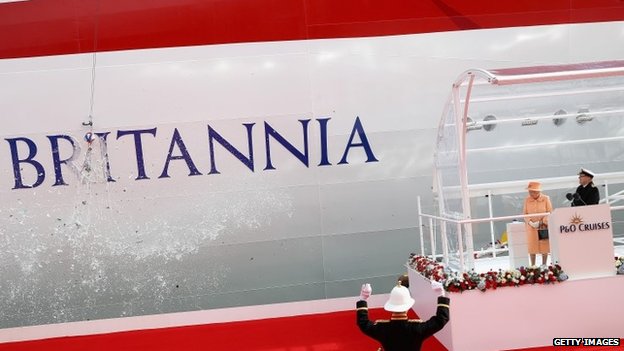 P&O UK's new 3,600 passenger vessel has been officially named "Britannia" by Her Majesty Queen Elizabeth II.
Officially designed for the British Holiday market and built in Italy at a cost of almost £0.5bn, Britannia will be based in Southampton.
The ceremony, also attended by Prince Philip marked the 5th official naming by Her Majesty.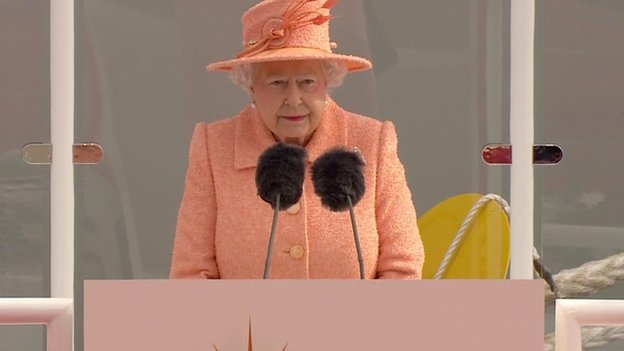 The ship bares the same name as the Queen's former Royal Yacht Britannia, which was decommissioned in 1997 after more than 40 years of service.
Some statistics on P&O's Britannia:
- The ship is 141,000-tonnes.
- At 330m (1,082ft), the ship is longer than the Shard is tall.
- Features a 94m (308ft) union jack on its bow.
- Its maiden voyage will be to Spain, Italy and France on 14 March 2015.
- Britannia has 15 passenger decks, 13 places to eat, 13 bars, 4 swimming pools and 9 places to enjoy the entertainment.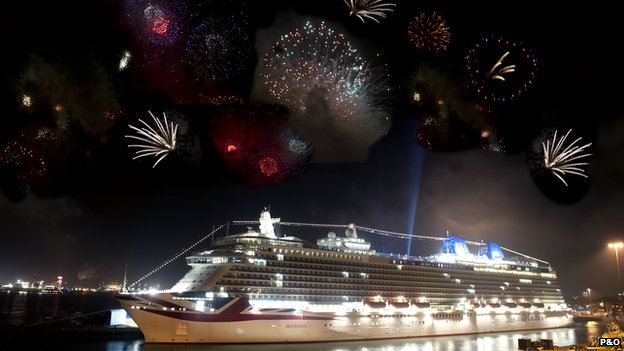 It's a win for Southampton's cruise industry, which the city council said had doubled in the past 10 years.
The Queen has previously christened four other cruise ships - namely Queen Elizabeth 2, Oriana, Queen Mary 2 and the Queen Elizabeth.
The Britannia cruise ship will sail from Southampton during the summer and from the Caribbean in the winter.
David Dingle, CEO of Carnival UK, the company which owns P&O said at the ceremony: "The naming of a new ship is a proud moment for any shipping line but today holds a special significance for P&O and our shared past and future.
"We are honoured the Queen is naming Britannia."