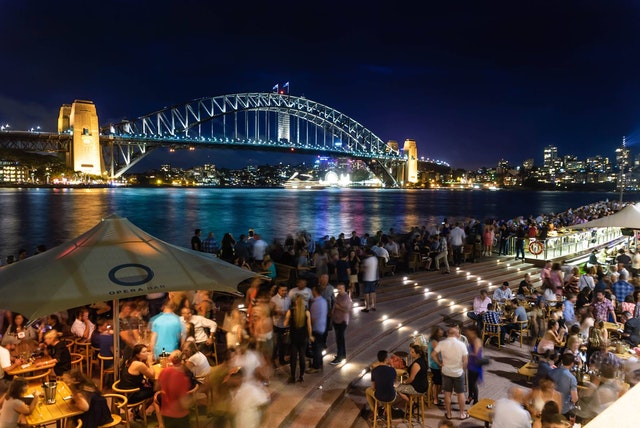 Sydney is a must do on most people's travel radar. Whether you are an Australian, Brit, American, European or Zimbabwean - most people on this earth would love to visit beautiful Sydney. The city is iconically Australian with the Sydney Harbour Bridge and Opera House proudly the showpiece.
Cruises from Sydney depart at the cruise dock (Overseas Passenger Terminal) in Circular Quay and Wharf 8 Darling Harbour. Located right in the heart of the CBD they are within walking distance to popular tourist destinations and shopping plazas.
Popular Tourist Spots
If you're heading to Sydney there are lots of interesting sights to see that can be achieved if time is permitting. If it's Bondi Beach you're looking for, grab a taxi or train and head to this famous Australian Beach. If you have always wanted to climb the Sydney Harbour bridge, this can be achieved by booking a simple tour and slipping on your harness! The Opera house is also a must do, whether you are actually wanting to experience a show or simply walk up and touch a piece of this iconic building.
Shopping & Dining
If you have eyes only for shopping, head straight to Pitt, Castlereagh and King Streets in the City Centre. If it's tourist shops you're looking for head to the Rocks for some uniquely Australian gifts and souvenirs.
Dining for Lunch or Dinner is also a popular pass time for Sydneysiders and tourists alike. Head to either Darling Harbour or 'The Rocks' area which is a short distance from the Sydney Cruise terminal.
Sydney Cruises
Cruises departing from Sydney are popular for tourists wanting to visit New Zealand, the South Pacific, and journey's to Melbourne / Hobart / Brisbane and the Great Barrier Reef. We have a large list of long and short cruises available to wet your appetite.
Popular Cruise Liners
P&O Australia
Carnival
Royal Caribbean
Princess Cruises
Holland America Line
Celebrity Cruises
Hotels Near the Dock
Holiday Inn Old is within a 2 minute walk.
Park Hyatt is within a 3 minute walk.
Limited Time?
If you don't have much time on your hands, make sure you walk over to the Opera House and perhaps grab a coffee or beverage at the popular "Opera Bar". With spectacular views of the Harbour you will not be disappointed. Bring your camera!