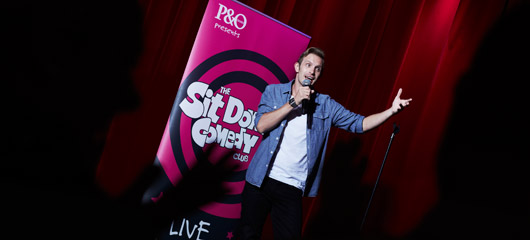 Comedy Cruises are a popular choice for first time cruisers and those wanting a quick getaway. Comedy Cruises from Sydney, Brisbane, Melbourne, Adelaide, Cairns and Perth can be taken over a 3 or 4 night departure.
With a big line up of talented Comedians, Cruisers will be entertained with an exclusive adults only Sit Down Comedy Club or by participating in comedy workshops.
The Comedy Line up includes a long list of performers including:
Marty Putz
Canadian performer Marty Putz presents bizarre gadgets and incredible inventions to keep the audience hanging on edge.
Bev Killick
Bev's show packs a punch. A worldwide comedian, she has been doing stand up comedy since her school days.
Mark McConville
A comedy veteran of 15 years, Mark is a seasoned entertainer. From an outback pub, or on a P&O Cruise, Mark brings comedy to people from all walks of life.
Lindsay Webb
Lindsay's show is interactive and fast paced. The audience is the content provider and Lindsay makes the fun happen right before your eyes.
Gary Eck
A highly sought after comedian, Gary has ben performing around the world including at the Edinburgh, Melbourne and Sydney Comedy Festivals. He is also an accomplished writer, actor and film director
Colin Lane
Best known for his part in comedy duo Lano and Woodley, Colin has appeared in many Australian TV Shows. He now performs solo in gigs across the globe.
Sarah Jones
Sarah brings back an old vaudeville artform with a fresh modern twist. She has performed in comedy clubs and festivals throughout the world.
Comedy Cruises