A short 58km from Brisbane in Moreton Bay lies beautiful Moreton Island. Since making its debut as a Cruise destination in 2013, Moreton Island has become a popular cheap cruise destination from Sydney. P&O and Carnival Australia both offer regular 4 night Cruises from Sydney to Moreton Island with a full day on the Island and a day at sea each side. The early morning arrival and departure at around 8pm ensure's you'll get to experience the wonders of this small but beautiful Island destination.
Search Cruises to Moreton Island
About Moreton Island
Moreton is the third largest sand island in the world at 38km long, and 8km wide at its widest point. The island is 98% national park to protect the islands abundance of marine life and natural ecology. There are no sealed roads on Moreton Island, so it tends to attract people who have a sense of adventure, and a love of the great outdoors. The island is popular with Brisbane locals who love to escape city life. Moreton Islands balmy water attracts dolphins, whales, and stingrays.
P&O & Carnival in partnership with Tangalooma Island Resort offer a wide range of activities when cruise ships arrive.
What to Do on Moreton Island
Tours of the Marine Education & Conservation centre
Snorkelling
Beach Festival with music and food stalls
Dolphin Feeding
Diving
Sand Tobogganing
Quad Biking
Adventure Safaris
Shopping
Swimming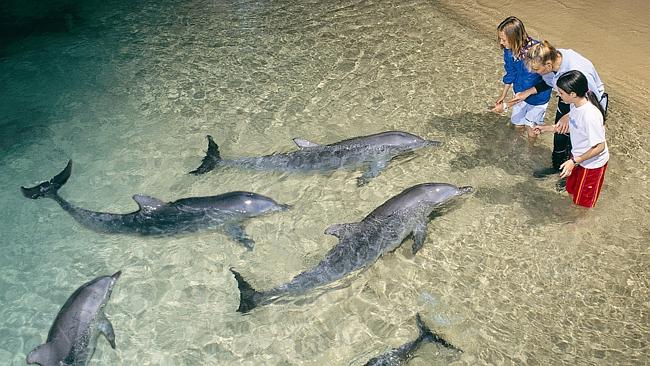 Which ships sail to Moreton Island?
P&O and Carnival Cruises send the following Cruise Ships to Moreton Island through their SeaBreaks promotion:
Pacific Adventure
Pacific Aria
Pacific Explorer
Carnival Splendor
Language
As with Australia, English is spoken on Moreton Island.
Currency
Moreton Island uses the same currency as Australia being the Australian Dollar.
Getting Around
Getting around Moreton Island is possible by organised tours only. 4WD bus tours, bay cruises and Helicopter flights are popular amongst vistors from Tangalooma.
What to Bring
Sunscreen, Hat and Sunglasses. The Australian sun is extremely harsh especially over the Summer months. Cover up to avoid any unnecessary sunburn on your cruise.
Must Do List
A visit to Moreton Island is not complete without a Wild Dolphin Discovery Tour. Moreton Island is one of the few places in Australia where you can wade in waist deep water to allow you to be up close to Dolphins. This is the main reason Cruises to Moreton Island are most popular.
Beaches
The closest beach to the Cruise Ship is Tangalooma Beach. The 8km beach from Tangalooma Point to Cowan Point can be accessed by foot from the Resort.
Cowan Beach is popular with Familes and also contains some interesting war relics.
Bulwer Beach is a popular destination for snorkelers and swimmers and to catch the sunset across Moreton Bay.
Search Cruises to Moreton Island