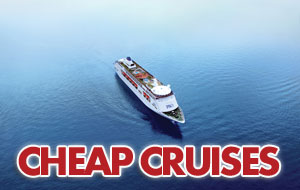 Finding a heavily discounted cruise isn't as hard as you may have thought. When all the sales are listed on one simple page - comparing the costs is easy. The only difficulty is what type of Cruise you are looking for and it's inclusions. Do you want an Ocean or River Cruise? An Asia or European Cruise? Do you need to consider children or do you only have a short time off? All these questions need to be answered however our simple Cruise Finder can help you manage these questions and hopefully find the cheapest cruise to suit your needs.
Cheap Cruises can be found nearly all year round, however frequent cruisers should keep on top of when the best sales are on. The CLIA (Cruise Line International Association) Cruise Week is a particular favourite to snare the best deals. Held in September in Australia, nearly all the major cruise liners combine to give you the best deals and specials from around the globe.
The Key to finding Discount Cruises
The key to finding a heavily discounted cruises is Flexibility. Cruise liners do not want to depart on an empty ship so the closer you get to a departure date the cheaper the cruise will become. Obviously during peak periods they won't need to do this as much as the low season, so beware not to leave it to the last minute if you want to go at a specific time. So our tips are:
Cruise in the Off Season
Take discounted cruises during the off season - eg. Alaska in September, the Caribbean during the hurricane season, South Pacific and Asia during wet season.
Take advantage of Smaller Ships
Taking a smaller boat will mean there are fewer amenities and attractions on offer so the cruise companies cannot charge as much.
Repositioning Cruises
A Reposition Cruise is where the cruise liner is moving ships from one part of the world to the next for a new season. Taking advantage of Repositioning Cruises will allow you to cross an ocean you've never seen or sail through a continent's coastline. Search the Cruise destinations drop down for Repositioning Cruises.
How to Avoid an Expensive Cruise Experience
Avoid the restaurants that are chargable
Specialty restaurants onboard are usually available on most ships, but they are usually not included in your base fare. If you do want to dine at a specialty restaurant during your cruise try to book before you depart and you can sometimes save in advance.
Don't Say Cheese
The professional photographers onboard are always roaming the ships in search of customers looking for some photos of your experience. To avoid any extras you didn't anticipate just say 'no'. Take your own camera and get some shots yourself
Have some alcohol free days
Limiting your alcohol intake during the cruise can save you lots of money. By all means we want to have some fun during our holiday but having ridiculous amounts of alcohol can really break the bank. If you do want to drink lots of alcohol, choose an appropriate alcohol package beforehand ensuring the drinks you like are on the inclusions list.
Casinos
Do we really need to write this? Avoid the casino at all costs if you don't want to start throwing away money. This goes without saying.
Onshore Activities
Be sure to plan your on shore excursions and activities as these can be the difference between having an expensive and the cheapest cruise you've ever had. Ensuring you plan beforehand will allow you to budget so as not to spend up big.
Below we take a look at a selection of Cruises on Sale departing from Australia and New Zealand.
Australia
Tip: The cheapest cruises from Australian cities are those where the cruise companies are trying to sell cabins during low capacity periods. Search for departure times when the weather is not so great and non-school holiday periods.
Search All
New Zealand
Tip: Discount Cruises from New Zealand occur throughout the year however heavier specials periods exist during Winter and low seasons.
Search All