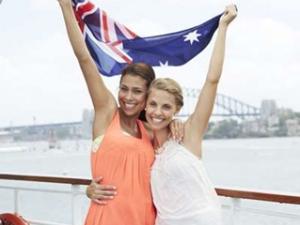 Thinking of doing something a little different this Australia Day? With warm summer days and balmy evenings, this time of year is a great time to sail off on an Australia Day Cruise. Celebrated annually on the 26th January we have a small selection of cruises where you can spend a little extra time off for your January break.
P&O Cruises offer a number of varied options around this holiday period. Sailing from Sydney and Melbourne on 3, 4 and 6 night itineraries you can celebrate Australia's national day onboard one of P&Os family favourite ships including Pacific Dawn, Aria, Jewel and Pearl. Get in the mood for celebrating as P&O will put on a great party to get the Aussie spirit flowing.
What itineraries are available on P&O?
Escape the rat race on a 3 day cruise return from Sydney to Brisbane.
Sail around Sydney Harbour and out into the Pacific Ocean on a round trip back to Sydney.
An Itinerary from Sydney will take you to Newcastle and Moreton Island and return on a 6 day journey.
Get out of Melbourne on a short cruise to Wilsons Promontory.
What do these packages usually include?
Cabin with private ensuite
Australia Day Party Celebrations
Full breakfast
Buffet or la carte lunch and dinners
Entertainment including Musical stage shows and special guest entertainers
Supervised children's programs for ages 3 to 17 years
For the full list of sailings refer to our Australia Day Cruise Itineraries
Some facts on Australia Day
The first Australia Day celebration was recorded on January 26, 1808 - 20 years since Captain Arthur Philip raised the flag at Sydney Cove.
The fist "official" day of celebration was held in 1818 marking 30 years since European settlement.
The day was formally known as "Foundation Day" in the early 19th Century where sporting events such as boat races, horse racing were held.
New South Wales was the first colony to declare the day a public holiday in 1838 to mark the 50th anniversary of Sydney Cove landing.
It wasn't until the 1940's that the 26th of January was agreed by all states to be the proper date to celebrate Australia's national day.
The Australian of the Year award is announced on Australia Day, the first of which to receive such an honour was Sir Macfarlane Burnet in 1960. Other Award winners include Dawn Fraser (1964), Joan Sutherland (1961), the Seekers (1967), Dick Smith (1986), John Farnham (1987), Cathy Freeman (1998) and Geoffrey Rush (2012).