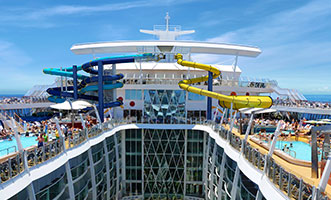 When it comes to planning for a Family Holiday a Cruising option is something parents should definitely consider. The amount of deals going around and with the advantage of Cruise Ships having supervised Kids Clubs it is any wonder Cruises are fast becoming a family favourite. But one question remains that is often asked by our customers - What are the Best Cruises for Kids?. To help you out we've compiled a list of 'kid friendly cruises' to help you in your search.
Take your pick from a number of short cruises between Australian cities, or longer cruises to the South Pacific Islands or New Zealand. Alternatively consider a Christmas or New Year cruise which can be fun for the whole family during the Australian Summer. Whichever Itinerary you decide upon, a Family Cruise is bound to be one of the most memorable holiday's you've ever had.
Australia Cruises
Cruises in Australian waters are quick and easy getaways for the whole family. Not only are they short and sweet, but as opposed to Air Travel, you won't need to waste valuable time getting to and from airports and packing / unpacking suitcases. Simply turn up at the dock and you're off on a family cruise adventure.
The Best Cruises for Kids are those where the itinerary meets the needs and wants of the children. A Cruise such as the Sydney or Brisbane to Moreton Island is a great option due to P&O's "Fully supervised children's programs" (Ages 3 to 17 years) and the vast array of kid friendly activities on Moreton Island - including but not limited to Dolphin Feeding, Snorkelling and Whale Watching.

P&O Cruises onboard activities for Kids may include:
Kids Clubs
Short Film Making
Kids Got Talent Shows
Teen Jam - Band Performance
Story Time
Search Australian Cruises
Queensland Cruises
Queensland Cruises are the perfect option when thinking of Cruises with Kids as the weather allows for lots of fun in the sun which is perfect for growing boys and girls. Take your pick from a variety of Cruises to Brisbane, the Whitsundays, Cairns and Port Douglas run by P&O, Carnival, Princess & Royal Caribbean.

Royal Caribbean Children's activities depending on ship may include:
Swimming Pools
Rock Climbing
Surf Simulators
Ice Skating
Merry-go Rounds
Theme Nights
Karaoke
Babysitters at Sea
Puppet Shows
Characters from Dreamworks Films

A Cruise with Kids on Princess Cruises may have you being entertained by:
Swimming Pools
Mini Golf
Video Games
Pizza Parties
Movies
Karaoke
Learning Activities
South Pacific
The South Pacific region is bound to get the Kids excited onboard a Family Friendly Cruise Ship such the "Carnival Spirit" by Carnival Cruises. A South Pacific Cruise may have you docking at Noumea, Fiji, New Caledonia, or Vanuatu - destinations are only limited by your choice of itinerary.
Carnival has a number of "Fun Ships" designed especially for the whole family. With some amazing activities to entertain the kids, its possible you won't even see them until the end of day!

Carnival Cruises Family Friendly Cruise Ships may include:
Water Slides & Swimming Pools
"Real Life" Game Shows
Mini Golf
Pizza Making
Basketball
Search South Pacific Cruises
Christmas and New Year Cruises
Christmas Cruises are the perfect option to get the whole family together for a Cruising Holiday. Grandparents, Parents, Uncles and Aunties can all get together with the Kids for a Cruise to celebrate Christmas. Kids will love the activities onboard a Christmas Cruise which include such things as Carol singing, Concerts, Snow Machines, and a Visit from Santa. There is even some time for Beach Cricket.
Search Christmas Cruises
If you're unable to escape at Christmas, perhaps you could go Cruising with the Kids on a New Year Cruise.
Cruises with Kids can be a challenge, however the Cruise Liners have trained staff and Kids Clubs to ensure your little angels are well looked after, so that YOU also can enjoy your cruise!